Police remove evidence from the home of suspected serial killer Rex Heuermann on July 18, 2023 in Massapequa Park, New York. HOWARD SCHNAPP/NEWSDAY RM VIA GETTY IMAGES
The wife of Rex Heuermann, charged in the deaths of three women whose remains were found along a Long Island beach roadway over a decade ago, filed for divorce Wednesday, her attorney said. Asa Ellerup filed the complaint in Suffolk County Supreme Court. Her attorney, Robert Macedonio, declined any additional comment.
The news of the divorce comes as neighbors and a woman who went out on a date with Heuermann are sharing their chilling encounters with him, CBS New York reports.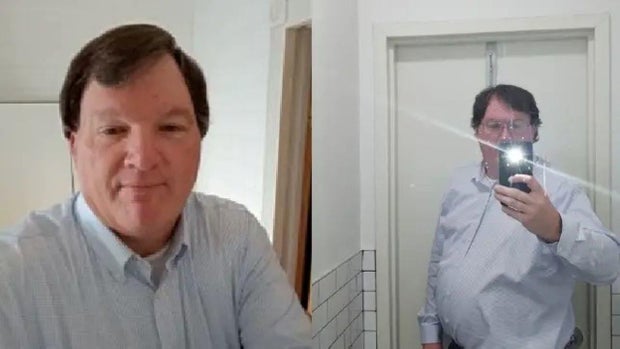 Nicole Brass, 34, told CBS New York that she had an eerie encounter with Heuermann years ago. She told the station she went on a date with the suspected serial killer years after the Gilgo Beach murders, and she said he was "excited" to talk about the killings.
"He was very detailed, and it didn't seem like somebody who was just a true crime fan. It seemed like somebody who as they talked about it were reliving it in their head. Like, he seemed, like, excited. Like, it piqued his interest. He sat up straighter, he relaxed his body. He seemed, like, really excited to talk about it," she said.
Neighbor Etienne Devilliers said his wife caught Heuermann peering over the fence at her while she was sunbathing, CBS New York reported. Devilliers told him to stop.
"He complied, and he didn't argue back and he didn't fight and he didn't get violent or… I never seen a streak of violence in the guy," he said.
Another neighbor, a former police officer, described on a podcast how he was confronted by Heuermann two weeks ago aboard a Long Island Rail Road train over where he was standing, CBS New York reported.
"It's almost like a road rage without the car. I walked away, but he's physically intimidating in the fact that he is 6-foot-5. Missing his left front tooth. His voice is very distinctive. I thought he was a bully," the neighbor said.
Meanwhile, authorities spent another day at the Massapequa Park home where the couple had lived, continuing their search of the premises.
Heuermann, an architect, was charged last week with murdering the three women, and is a suspect in a fourth death, a prosecutor said.
He has pleaded not guilty and remains in custody under suicide watch; an email seeking comment about the divorce filing was sent to his attorney.
Police say his wife and two children were "in the dark about his double life," CBS New York reported.
The bodies of Melissa Barthelemy, Amber Costello and Megan Waterman were discovered in a quarter-mile section of Ocean Parkway.
They were among 10 sets of human remains found along Long Island's Gilgo Beach in 2010 and 2011, an accidental discovery while authorities were searching for another woman who had gone missing.
That woman, Shannan Gilbert, was found dead in 2011 in another area, a coastal marsh, in what Suffolk County police labelled an accidental drowning, which her family has refuted.
The Gilgo Beach discoveries turned into a longstanding New York mystery about who was responsible for their deaths. While authorities didn't think it was likely that one person was responsible for all the remains, they did think the presence of some of the bodies near each other indicated the work of a serial killer.
The long-unsolved killings were the subject of numerous CBS "48 Hours" reports and the 2020 Netflix film "Lost Girls."
Investigators are working to link Heuermann, 59, in the death of a fourth person, Maureen Brainard-Barnes, prosecutors said.
Police searching his home in recent days have been seen taking out boxes of material, including more than 200 firearms, a filing cabinet and a computer, as well as a large doll in a glass case and other household items.
Heuermann lived in the house, across a bay from where the remains were discovered, for decades.