Rex Heuermann IMAGE OBTAINED BY CBS NEW YORK
Police in New York have taken a person into custody in connection with the unsolved murders of at least 10 women whose bodies were found on Long Island's Gilgo Beach more than a decade ago, two law enforcement sources confirmed to CBS News Friday morning. The suspect was identified as Rex Heuermann, of Massapequa, Long Island, several law enforcement sources told CBS New York.
The major development comes more than a decade after more than 10 bodies were found on Gilgo Beach. The long-unsolved killings were the subject of numerous CBS "48 Hours" reports and the 2020 Netflix film "Lost Girls."
Since 2010, more than 10 victims have been discovered, their remains strewn across a stretch of Ocean Parkway on Long Island, several of them identified as sex workers. The case has long baffled investigators and no arrests had ever been made.
Residents of Massapequa Park told CBS New York they were stunned by the news on Friday.
"We've been here for about 30 years, and the guy's been quiet, never really bothers anybody," next-door neighbor Etienne DeVilliers told the station. "We were kind of shocked, to tell you the truth."
DeVilliers said Heuermann is married, with two children. He added that his neighbor told him he was an architect.
"Like I said, we're shocked. Because this is a very, very quiet neighborhood. Everybody knows each other, all of our neighbors, we're all friendly. It's never been a problem at all," DeVilliers said.
On Friday, officers converged on a small red house that had been raided earlier in the morning in Massapequa , the Associated Press reported. Investigators were seen outside the home, which appeared to be in disrepair.
"This house sticks out like a sore thumb. There were overgrown shrubs, there was always wood in front of the house," neighbor Gabriella Libardi told the AP. "It was very creepy. I wouldn't send my child there."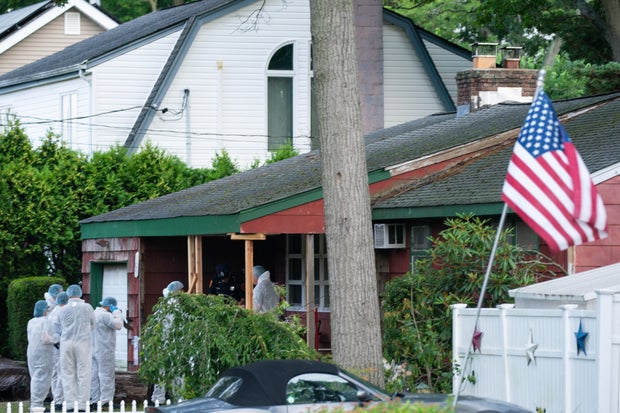 Barry Auslander, another neighbor, told the AP the man who lived in the house commuted by train to New York City each morning, wearing a suit and tie.
"It was weird. He looked like a businessman," said Auslander. "But his house is a dump."
What we know about Rex Heuermann, suspect in Gilgo Beach murders
The apparent breakthrough in the hunt for a suspect in what's become known as "the Long Island serial killer" case came a little more than a year after police released audio of a 911 call made by Shannan Gilbert just before she vanished in 2010.
Investigators were searching for Gilbert when they found other remains on Gilgo Beach in December that year — women in their 20s whose remains had been wrapped in burlap sacks. Known as the Gilgo Four, they were later identified as Maureen Brainard-Barnes, abducted in 2007; Melissa Barthelemy in 2009; and Megan Waterman and Amber Costello, who went missing in 2010. Six more sets of remains were found along Ocean Parkway the following spring.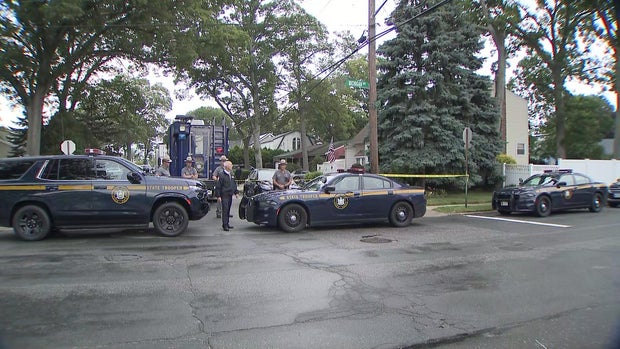 The Suffolk County Police Department released the full audio of Gilbert's 911 call last year, as well as maps and other images showing what authorities believe happened on May 1, 2010, the night she disappeared.
The police said in 2022, however, that "based on the evidence, the facts, and the totality of the circumstances, the prevailing opinion of Shannan's death, while tragic, was not murder and most likely not criminal."
Investigators voiced hope then that releasing the 911 audio would lead to answers in the larger search for the Gilgo Beach killer, and officials announced a doubling of the reward for information on the murders to $50,000.
"We are making real progress," Suffolk County Police Commissioner Rodney Harrison said in May 2022. He said he hoped new information released to the public would bring new leads on the notorious crime spree that had stumped police for a dozen years.